Teaching as Art Day 2019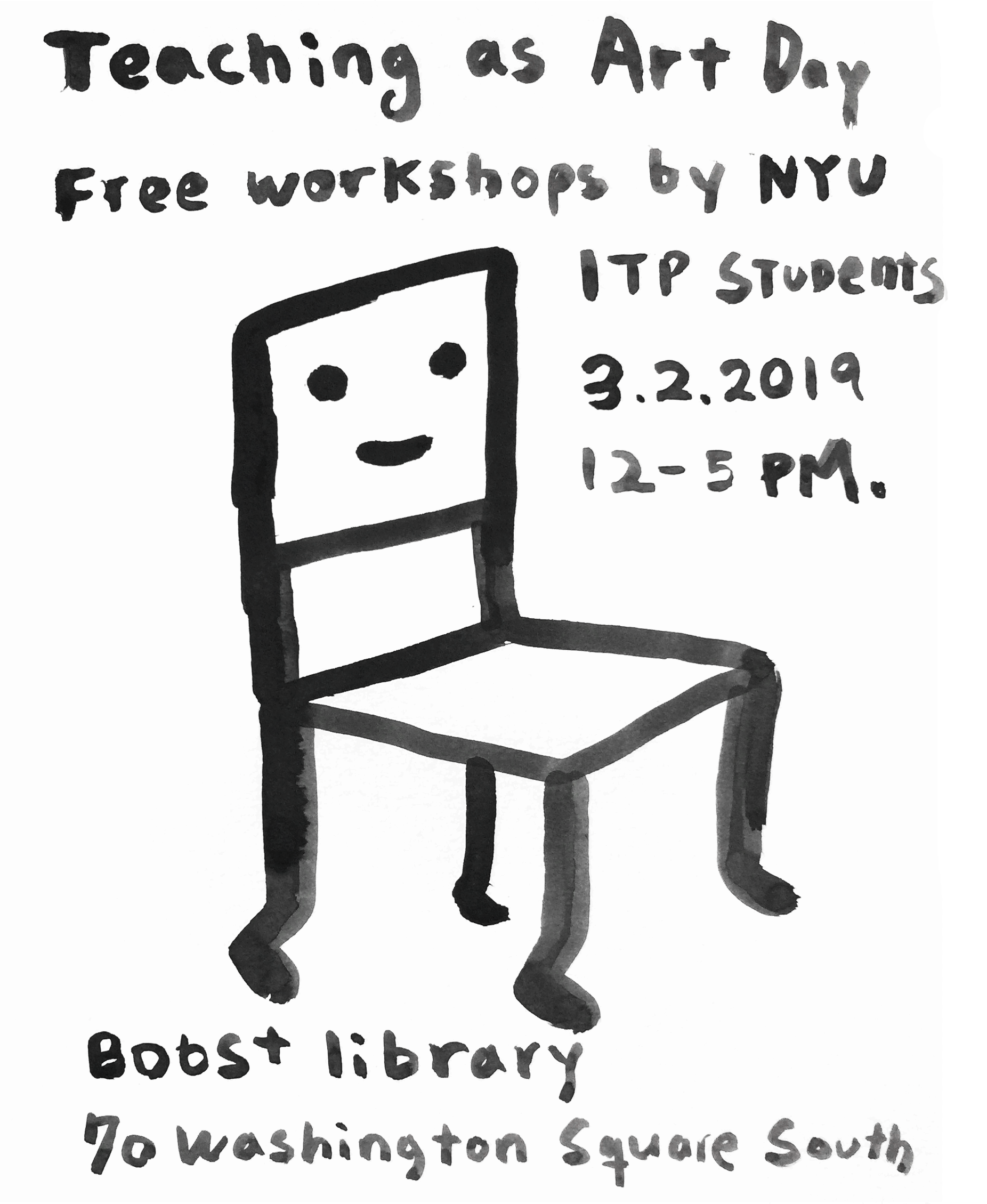 Teaching as Art Day is a culmination of a 6-week course, Teaching as Art, in which students explored teaching as a form of artistic and creative practice. Students explored curricula and syllabus building, focusing on socially-engaged art, museums and communities as schools, and inclusive learning. This year, we focused particularly on the works of Simone Leigh and Anni Albers.
Over the course of 5 weeks, students had the chance to visit Recess and meet educator Raven Stubbs, in addition to learning from Maia Ruth Lee, Director and Artist Liaison at Wide Rainbow.
For their final projects, students were instructed to create their own workshops, centered around the intersections of art, technology, and social justice. At Teaching as Art Day, students will present their workshops and learn together. Teaching as Art Day will be held from 12 - 5 pm at Elmer S. Bobst Library and is free and open to the public. Special thanks to Zach Cobble, a librian at NYU Bobst and former Teaching as Art student.
Workshops by NYU ITP students
Conference Room 613
Computer Lab 617
Computer Lab 619
All workshops are free and open to the public with RSVP.
---
Teaching as Art is a class about pedagogy, artist run schools and social practice art. The class has been offered as a graduate level course offered at NYU ITP in 2019, 2018, 2017 and a day long workshop at the Eyeo Festival.
Professor: Taeyoon Choi
with assistance from: Shira Feldman
This class is for artists and creative technologists who want to teach. A good teacher is also a great student themself. They transform their curiosity into knowledge and share their learning processes with others. One can learn to become a better teacher by staying fearless about 'not knowing' something, embracing radically open ideas and connecting various expertise and knowledge. Teaching can be a form of artistic and creative practice in collaboration with a diverse community. Teachers can invent new forms of learning spaces, new kinds of collaboration and new senses of community.
---